We've postponed
12, Sandy Crossroads
'Someone at the Gate' (Meinke bij het hek) will be first now
Over speciale uitgaves gesproken: zie hier maar eens aan te komen:

Malou en de Sladronders , Malou en het verhaal van Elvenschot, Malou en het land Vanwin, Malou en de Ritselaars .


Wij hebben ze gekregen !!!
Een band kan niet zonder achterban(d)(bende). En in die van ons zit onder andere Willem Noordstrand. En Willem is een echte muzikant on his own en super ok en wij zijn fan van Willem.
En naast Willem zijn daar natuurlijk onze kanzie.nl vrienden moon, tei, marion en frans, en niene.nu en liesbeth, marjo, antoinette, ed, ingrid, ingrid, albert, tinus, thijs, stefan, sjaak,

lili

, maarten, theun, geraldine, edward, caspar, arnoud, kees, bert, h'jet, maria, lidia, henk, line, wendy, pieter, lianne, lisette en rita.



Bad bad Holster. Met z'n drieën op gitaar (Bounty, Mike en Tobias) zullen ze je de oren van het hoofd swingen in De Wisch nummers als 'Time Space Agent' .
May 2016. Ton with Belinda O'Hooley and Heidi Tidow. Na afloop van een schitterend optreden van O'Hooley & Tidow. Photo by Richard Wagenaar.
Just moments before shooting
the iconic cover for their last and
final album.

Wij zijn allemaal fans van openbare bibliotheken.
jan 11. As we just now found out: Ton used for the Back to the Yak version on Cooper Cat (and for the movie) casual recordings from the Trumpercussion Studio. Both his guitar and voice were recorded there as just a lead for other musicians, but he never bothered to record them again...! This guy is so incredibly lazy !!!
En hier onze vriend Stefan in de controlekamer van zijn inmiddels verhuisde studio.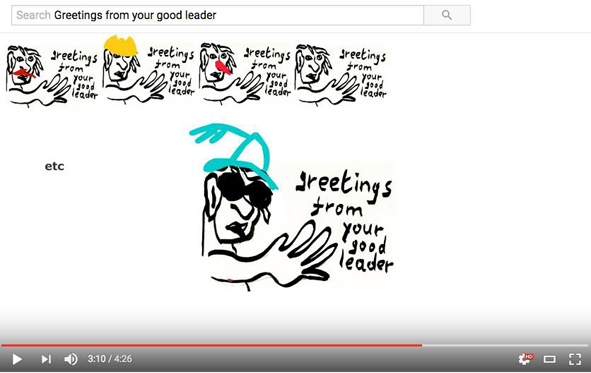 There was always a big temptation to make a beautiful harmonic version of 'Greetings from your good leader', there's more than enough recorded material for that, but Ton always managed to withstand that. At page 11 there's a link to this video on Vimeo.